West Coast Park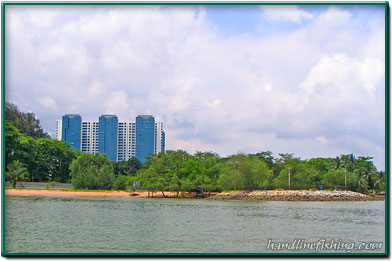 West Coast Park is located at the southwestern coast of Singapore along West Coast Highway. Most part of the park's shoreline has been made into breakwater from its once sandy shore. The shore was(and still is) used as a berthing place for many small wooden boats.
The nearest public transport will be bus which you can take just alongn West Coast Highway. Nearest MRT is Clementi and you can take bus service 175 from there to the park. There are two carparks for those who drive; the one beside MacDonalds will be the one closer to the shore.
Map of West Coast Park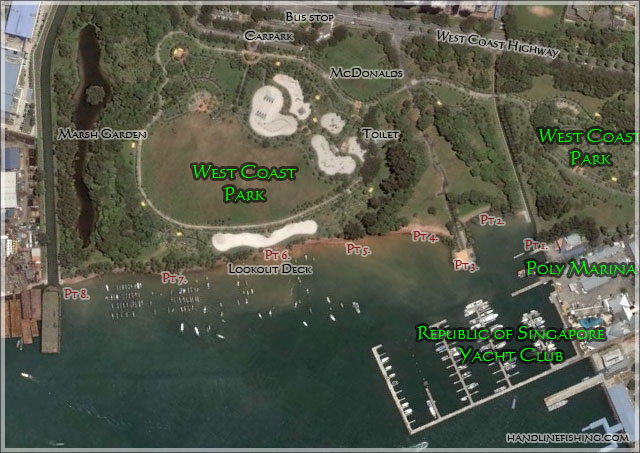 Starting from the extreme right end of the coast(from map), you can fish beside the poly marina just beside its slipway. This area is small but it's pretty shady fishing under the trees there. Water along this side of the shore isn't very deep and casting far out doesn't help. The potential of this spot lies in the slipway which possibly hold potential for snappers and groupers hiding beneath.
There's a canal and a drain that leads to this area. The habitat here leans closer to that of a mangrove, and mullets tend to thrive here and possibly prawns. This attributes to the possibly of barramundi or other predatory fish coming in to feed. It's also difficult to fish from the sandy shore as they are many boats moored along it. There will be a heavy discharge of rain/muddy water during heavy rain which makes the surrounding waters unfavourable to fish in.
| | |
| --- | --- |
| Pt 1: Poly Marina Slipway | Pt 2: Small cove which is occupied by boats |
Just opposite the Poly Marina is a small headland with an open space. You can see the entire RSYC from here and the many boats berthed along pontoons. This is the main area where most anglers fish in West Coast Park. On both sides of this area are small boats berthed along shores so it leaves only the outward side feasible for fishing.
The headland is surrounded by rocks, much like a breakwater.
Caution: The stretch of waterway infront of the headland is pretty narrow,a surf tackle set can easily reach the boat berthed directly on the opposite side. Anglers must be be aware at all times for boats passing by; if you cast too far out, your line may get tangled on their propellors. The waterway is typically busy during weekends and public holidays when boaters are active.
| | |
| --- | --- |
| Pt 3: Left view from the small headland | Pt 3: Right view from the headland |
| | |
| --- | --- |
| Pt 4: A small stretch of sandy beach | Pt 5: Stretch of breakwater on the left of the viewing deck |
| | |
| --- | --- |
| Pt 6: A Lookout Deck but no fishing on it | Pt 6: No fishing sign on the Lookout Deck |
| | |
| --- | --- |
| Pt 6: Large shelter along the jogging path | Pt 7: Breakwater to the right of the Lookout Deck |
| | |
| --- | --- |
| Pt 8: Extreme end of the park | Pt 8: A canal at the end of the park |
The Marsh Garden: No fishing within

---
last update 31 Mar 2008