Guide to Tamban Jigging in Singapore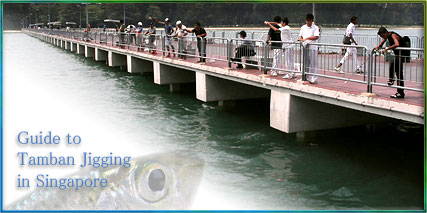 Contents
Introduction
Tambans, a local term for a collective species of herrings can normally be caught along our shores, especially on jetties. They feed throughout the day but are more active during mornings and evenings. They normally come in large school during spring tides when the current is strong. There are actually several species of herring that are generally called tambans. But as anglers, we aren't too particular about the different types of herrings so long they taste the same and are just as effective in catching fish.
| | |
| --- | --- |
| Tambans are usually caught in numbers | |
Fishing for tambans can be addictive and is a great way to pick up fishing from. It's fun and fairly easy to catch them when they're in abundance, simply drop down the feathered hooks and the tambans will get hooked themselves. Two common places to try out tamban fishing would be Bedok Jetty and Labrador Jetty. However, fishing for tambans can be very much tricky as it is easy when their numbers are low and when the current is not favourable. That's when different types of tamban jigs and technique of jigging show their effectiveness.
There are many uses of tambans. For one, they're excellent baits for many fishes like queenfish, stingrays, threadfins, cobia, catfish, Wolf herring, etc. For pelagic fishes, use of live tambans will yield better results. You can also bring back the tambans for preservation and use them for baits when tambans are scarce or fishing at places where no tambans can be caught. Tambans can be eaten as well, usually deep fried without descaling.