Woodlands Waterfront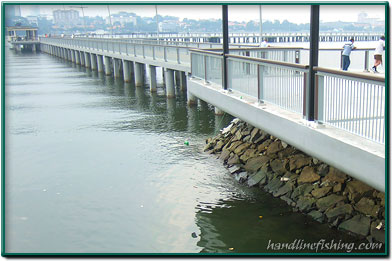 Woodlands Waterfront is situated along Admiralty West road where a stretch of old warehouses used to be. The jetty used by the warehouses is now refurnished and opened to public. Parts of the waterfront is still under construction but the jetty and many parts of the coast is opened for fishing.
Getting to the waterfront is most convenient by private transport (parking is currently free). There's a bus stop(service 856) along the main Admiralty Road West, a 10 mins walk to the waterfront. Standard facilities like toilet and water coolers are available but there are currently no shops in the vicinity of the park.
Fishing is allowed along the coastal path towards the jetty as well as the jetty itself. The coast can be difficult to fish during low tide water level can recede far out during spring tides but the jetty extends far out with water depth less than 20ft on direct drop. Water current is minimal due to the blockage by the causeway.
Habitat leans towards a brackish coastal swamp, with mudflats visible during low tide. Common species of fishes expected in this location includes marine catfish, rays, barramundi, barracuda, mangrove jacks, golden snappers, groupers and families of croakers and grunts. There's a canal outlet just beside the waterfront, prawns and baitfishes like mullets can often be found at this area which may likely draw predatory fishes near.
The jetty itself provides ample cover for fish to forage and breed and neighbouring jetty ruins are also potential hunting area for predatory fishes. As with many parts of northern waters, herring schools can often seen near surface.
The jetty is well furnished and excellent for fishing, although the jetty railing isn't friendly towards anglers who wishes to secure their rods to it. Alas, the lack of water circulation in this area discourages the quantity and number of species of fishes to thrive here.
Map of Woodlands Waterfront (not drawn to scale)
Picture Gallery

A video tour of the waterfront (sorry about the video shake)