How to Fish :: Misc Guides :: Photography ::
Choosing a Digital Camera for Fishing
There are numerous factors and features to be considered when buying a camera, but only the ones more related to the use for fishing will be discussed. Keep in mind that there's no best camera in the market, just the right for that user. Below are some characteristics of a camera that you may want to consider when purchasing a camera for fishing.
Field of View
Field of view is the amount of area of a scene a camera can capture and is determined by the focal length(in mm) and sensor size of the camera. The smaller the focal length, the wider angle of a scene the camera can capture.
For purpose of fishing especially for boating anglers, cameras with wide angle would be more appropriate for them. Wide angle allows the photographer to see more area in frame than one with narrower angle without having to increase the distance between the photographer and the subject(s). This is becomes particularly useful when taking:
- group photos in a small area like on a boat
- photo of your total catch or a large fish
- landscape pictures
Typical compact cameras are usually starts from 35mm - 38mm while some wider angle ones are usually 30mm and below. Below is a difference between a 38mm lens and a 28mm lens. Both pictures are taken from the same distance and as you can see, the 38mm lens can barely fit all the fish into frame while in the 28mm, all the fishes fit into frame easily.



Instances of where this becomes useful:
photographing a group of people with little space, ie. on the boat
capturing angler fighting a fish
taking landscape sceneries, ie. horizon, sunsets, island, etc
Image Stabilization
Image Stabilization is getting more common on compact cameras. It is a mechanism inside the camera that counters the shake from the photographer's hand when holding onto the camera. It is useful in low light conditions such as shady areas or when the sky is dark. It is also useful on a boat as the rocking motion from the waves impedes our balance and steadiness to hold the camera.
Different camera manufacturer have their own image stabilizing system and can call it differently like Optical Image Stabilizer, Anti-shake, Steady Shot, Vibration Reduction, etc.
Instances of where this becomes useful:
Shaky hands when holding the camera
Low light conditions/under shelter such as inside boat cabin
Boat rocking which causes difficulty in holding the camera steady
Compactness and Weight
Most of us have lots to tackles to carry on a fishing trip, especially when you have to bring the box of heavy sinkers for an offshore fishing trip. Having a compact camera, especially an 'ultra-compact'/pocket sized cameras can be pretty useful because you can easily fit into your pocket and it becomes easily accessible as and when you need it. It won't have to fight for room in your bag, cramming itself with your fishing tackles that might accidentally damage the camera.
Instances of where this becomes useful:
When you need to have your camera on you often without obstructing your fishing
Limited baggage space for travelling
Video Capability
The good thing about modern compact digital cameras is that they have video recording features. It saves one the trouble of lugging a video camera. Most digital compact cameras will have video capabilities but not all have good video quality. For a typical quality video, it must have at least a resolution of 640 x 480 pixels, recording at 30 frames per second. The compression of the video also determine how good the picture quality is. The only way to determine the quality is to see a sample of the video itself.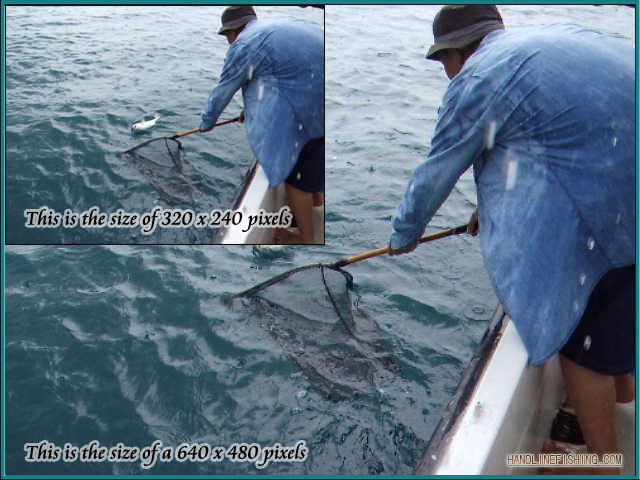 Instances of where this becomes useful:
taking a video clip of your buddy fighting a fish
documenting a fishing spot
Weather/Shock Proof
Fishing is a water related activity that which isn't quite friendly with electronics. Very often, the camera can be exposed to splashes of water and rain, not to mention the high salinity in the air at the sea. It is good but not totally necessary to have a weather proof camera for fishing so long you take precautions in keeping the camera dry and clean. There aren't many weather proof cameras out there either although you can use an underwater housing for it.
Weather proof Cameras are simply water resistant cameras, which means it can take splashes of water (not soaked into it) without damaging the camera. There are also compact cameras that are waterproof on its own without additional accessories (check out cameras from olympus).
Instances of where this becomes useful:
photographing in bad weather such as rain or rough sea
taking close up pictures of live fish with possible water splashing
photographing on open deck while boat is moving
Controls
Every digital camera has an auto mode which enables anyone take pictures with no hassle or the need to learn different controls on a camera. A camera with additional manual mode, even one with semi-auto mode can give more flexibility in controlling the outcome of your picture.
Manual controls are good to have but not totally neccesary to take snap shots on your fishing trips. Typical semi/full controls you can find of cameras are Shutter Priority, Aperture Priority and Full Manual.
Instances of where this becomes useful:
blurring background which distracts from the subject of interest (angler/fish)
photographing on open deck while boat is moving
What about Megapixels?
Camera manufacturers seems to have caught up in a megapixel race so consumers now don't really need to worry if their new camera has sufficient megapixels to do large prints. New cameras are typically 7 megapixels and above. The table below shows megapixels needed for each photo print size.
For Printing

Photo Size

Low Quality Print
(150dpi)

High Quality Print
(300dpi)

4R ("6 x 4")

0.7 MP

2.5 MP

5R (7" x 5")

0.9 MP

3.4 MP

6R (8" x 6")

1.1 MP

4.4 MP

8R (10" x 8")

2.0 MP

7.7 MP

For Computer / Internet Use

Desktop Background

0.8 MP(1024x768) - 2.0 MP(1600x1200)

Forum/Email/Blog
MP = Minimum megapixels required from camera
Note: Derived megapixels based on 4:3 image aspect ratio (rounded up)
So, if you just need a camera for 4R prints and computer/Internet use, a 3 megapixels camera is more than sufficient for such purposes. Take note that the higher the megapixels the more space is required to store these images, therefore a high capacity memory card is needed. Good thing is memory cards are relatively cheap compared to the past.
Deciding on a Camera
The ultimate decision for a camera will depend on your budget matched against your criteria. Some people will want a camera with best image quality, some will insist on performance and control, while others may put the camera's size, weight and design at a higher priority.
It's a good idea read up reviews on the cameras you have shortlisted before going down to the retail shop to buy/try them. You can find them at popular reviewer sites such as:
depreview, DCResource, Steve's Digicams and Megapixel.net.
and you can buy and check out prices of cameras at local stores such as:
MSColor, Cathay Photo, TKFoto, Alan Photo, BargainCity.
---
created 20th june 07